2021 Cadillac CT5-V Buyer's Guide in Joplin, Missouri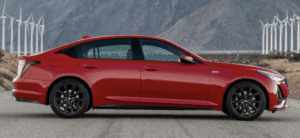 Because it's one of the best-looking and most powerful luxury sedans out on the road, there's no wonder why Caddy lovers are so curious about the 2021 Cadillac CT5-V. The Cadillac CT5-V provides a sophisticated style-provoking presence and optimal horsepower to provide the best driving experiences. We at Landers Cadillac of Joplin, MO offer a quick 2021 Cadillac CT5-V buyer's guide with all the information you'll need to satisfy your curiosity.
BROWSE OUR AVAILABLE SELECTION OF 2021 CADILLAC MODELS
What's the difference between the 2021 Cadillac CT5 and Cadillac CT5-V?
The main difference between the two is a better engine performance and more power due to the 2021 Cadillac CT5-V being a V-Series performance model.
What engine comes standard on the 2021 Cadillac CT5-V? 
The 2021 Cadillac CT5-V comes equipped with a 3.0-liter twin-turbocharged V6 engine with 360 horsepower and 405 lb.-ft. of torque.
What is the base price for the 2021 Cadillac CT5-V? 
The starting price of the base model 2021 Cadillac CT5-V is $47,795.
Is there a Cadillac CT5-V Blackwing?
Yes! The 2022 Cadillac CT5-V Blackwing comes equipped with a 6.2-liter supercharged V8 engine paired with a 10-speed automatic transmission or the available six-speed manual transmission. 
Does the 2021 Cadillac CT5-V handle well? 
Heck yeah! The CT5-V is equipped with an electronic Limited-Slip Rear Differential that automatically directs torque to the rear wheel with the most traction for greater control during cornering and quick-to-react maneuvers. 
What are the interior features available for the 2021 Cadillac CT5-V?
You can choose the new 12-inch HD reconfigurable instrument cluster with different themes, including a traditional Tour theme and a performance-oriented Sports theme. All this is included in the Technology Package, which is new for 2021.
What is the Technology Package?
The Technology Package provides an exhilarating driving experience and is available on Premium Luxury and Sport trims. Features include an eight-inch gauge cluster, Head-Up Display, Rear Camera Mirror, Rear Camera Mirror Washer, HD Surround Vision, Surround Vision Recorder, Rear Pedestrian Alert, and Automatic Parking Assist with braking. 
You'll have the exhilarating power to speed away in luxury while driving the 2021 Cadillac CT5-V. Come see your pals at Landers Chevrolet Cadillac of Joplin, Missouri to purchase your Cadillac today, or browse our inventory of new Cadillacs and reliable, affordable used vehicles.