2022 Cadillac Escalade for Sale in Joplin, MO
The most iconic SUV is hitting the streets of Southwest Missouri! The 2022 Cadillac Escalade is available now through Landers Cadillac of Joplin, and we know you'll love every well-thought-out detail.
The Escalade family is fresh off of a redesign for 2021, and is available as the standard length Escalade or the extended Escalade ESV, which provides approximately 16 additional inches of length.
You'll be able to configure your 2022 Escalade in one of five trims: Luxury, Premium Luxury, Premium Luxury Platinum, Sport and Sport Platinum. There are nine exterior colors to choose from, and several interior options depending on your trim.
Without a doubt, the first thing you'll notice as you climb inside is the massive 38-inch array of screens. There are three screen "zones" stretching almost the full width of the dash. In the center is a 16.9-inch infotainment screen that supports Apple CarPlay and Android Auto. Behind the steering wheel, the driver's digital information center displays the speedometer and vehicle information. You'll also be able to easily view audio, phone and navigation information within the display. To the left of the steering wheel is the driver's control panel, a touchscreen with trip and mileage information, controls for the heads-up display and night vision systems and more. The Escalade's OLED screens are clearer than even 4K TVs, so rest assured that you'll have everything you need at a quick glance.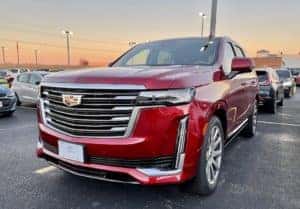 The 2022 Escalade also introduces Cadillac's Super Cruise system to the Escalade family for the first time. Super Cruise is a hands-free driver assistance technology that will even change lanes for you. Super Cruise is compatible on nearly 200,000 miles of roadway currently (including I-44 and I-49 here), with more being added every month.
Other great technology features of the 2022 Cadillac Escalade include:
An available 36-speaker AKG Studio Reference audio system (there are four speakers in the headrests!)
Two 12.6-inch touchscreens in the back seat
Augmented reality navigation
Available front and rear microphone systems to make conversations easier
Your family's next vehicle is waiting for you here at Landers Cadillac of Joplin! View our current Cadillac inventory here, and give us a call if you don't see what you're looking for. We'll be happy to order it for you, and provide updates throughout the entire process!