2023 Cadillac Lyriq in Joplin, MO
The first-ever all-electric Cadillac is here. The 2023 Cadillac Lyriq is luxurious, efficient, and seriously smart. If you're interested in sustainable transport, then look no further than the new 2023 Cadillac Lyriq. Get on the ordering list to be one of the first in Joplin, Missouri to be behind the wheel of the Cadillac Lyriq!
Click here to order the 2023 Cadillac Lyriq from Landers Chevrolet Cadillac of Joplin.
The 2023 Cadillac Lyriq is an all-electric SUV. Being all-electric, the first argument is range. You'll have no range anxiety thanks to the 100.4-kilowatt-hour battery pack providing over 300 miles of range. This is achieved with a 12-module ultium battery that produces 340 horsepower and 325 lb.-ft. of torque. It is estimated that the Lyriq will be able to tow up to 3,500 pounds.
The 2023 Lyriq starts at under $60,000 which makes it competitively priced to rivals like the Tesla Model X.
Charging the Lyriq is quick and easy. When you have a level two charger at your house, you can recharge the battery up to 52 miles of range every hour. When publicly charging at DC fast chargers, you're able to receive up to 76 miles of range in just 10 minutes of charging time.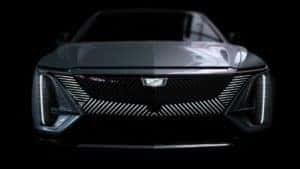 The interior of your Lyriq is luxurious and filled with technology – just as you would expect from a Cadillac. The interior is striking with the 33-inch digital advanced LED display. You can drive with comfort and confidence thanks to Cadillac's Super Cruise driver's assistance package. Additional features include one-pedal driving, choreographed exterior LED lighting, fixed glass roof with power sunshade, lumbar massaging seats, Cadillac-exclusive AKG-Studio 19 speaker surround sound system, Cadillac Digital Key, and so much more.
Ready to drive the future in Joplin, Missouri with the 2023 Cadillac Lyriq? Order your Lyriq today at Landers Chevrolet Cadillac of Joplin!