Buy a 2021 Cadillac CT5 in Joplin, Missouri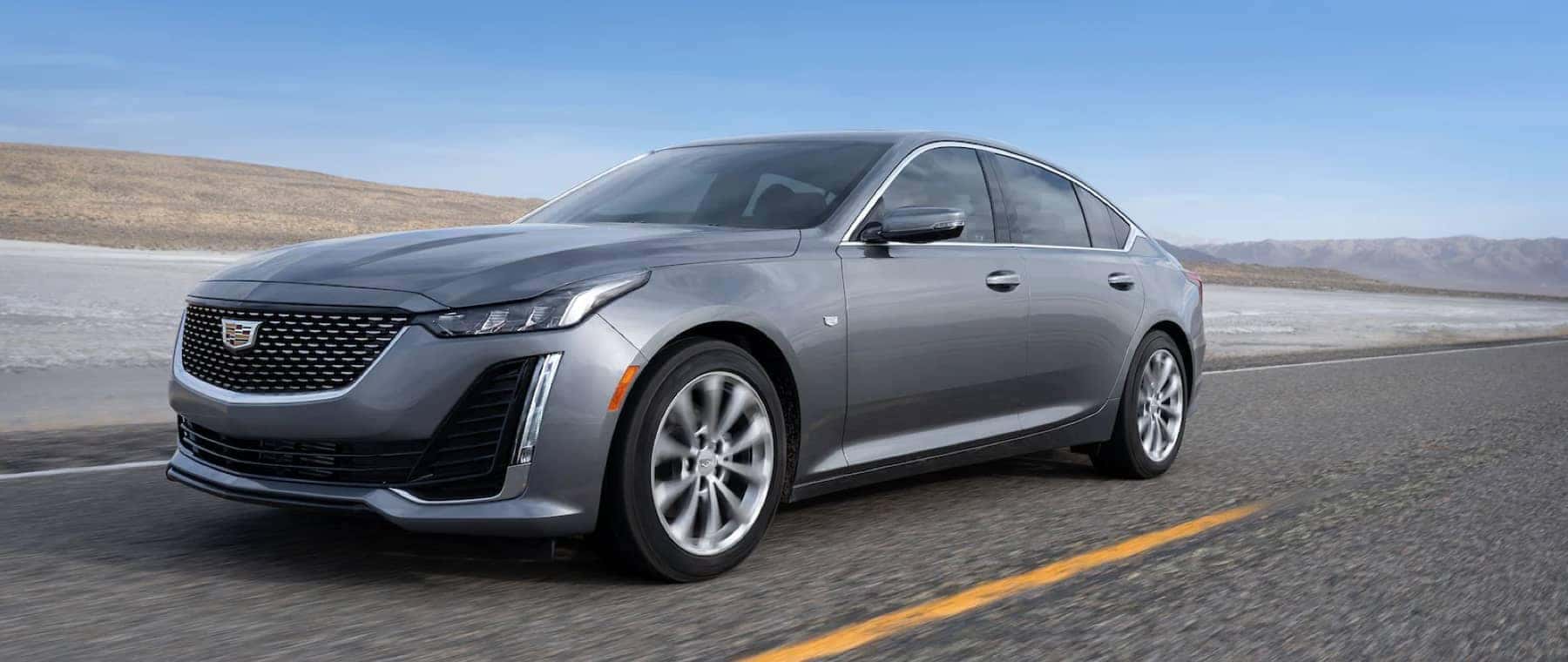 BUY A 2021 CADILLAC CT5 IN JOPLIN, MISSOURI
|

Landers Cadillac of Joplin

Remember the Bad Old Days of automotive luxury, when in order to find ultimate craftsmanship, scintillating design and painstaking attention to detail, you were stuck buying a massive car that almost needed its own landing strip to park? That's the past of luxury sedans. If you're looking for the future of automotive luxury, look no further than the 2021 Cadillac CT5. Comfortably sized, with the perfect blend of elegance, athleticism, cutting-edge technology and safety, the 2021 Cadillac CT5 is the sedan you should be driving right now. Ready to buy a 2021 Cadillac CT5 in Joplin, Branson or Carthage, Missouri? Then come see us at Landers Cadillac of Joplin for a sumptuous test drive, or shop our growing selection of 2021 Cadillac CT5 models at our website right now.

A STOPLIGHT STUNNER: Sleek, modern and oh so sexy, the 2021 Cadillac CT5 packs incredible style into an agile mid-size footprint, with features like all-led Lightblade headlights, real polish metal trim, and available sport-tuned suspension. Starting at just $36,995, it's affordable elegance and heart-revving performance from Cadillac, the brand synonymous with elegant American touring cars. To help make your 2021 Cadillac CT5 uniquely your own, choose from any of four trims, including Luxury, Premium Luxury, streetwise Sport or, for the ultimate in performance, the 2021 Cadillac CT5-V, featuring unique alloy wheels and active ground effects for an aggressive stance and look.

TECHNOLOGY AT YOUR FINGERTIPS: What makes the new 2021 Cadillac CT5-V even more attractive is the stellar technology it provides, changing your road trip into a true vacation. With the wireless phone charging feature, your smart device will always be charged for the journey. Phone integration is a cinch with Apple CarPlay and Android Auto compatibility. With the 10-inch diagonal HD color touchscreen display and Rotary Infotainment Controller with keen functionality, you will be able to captain any journey effectively.

AN INTERIOR WHERE YOU WANT TO BE: Cadillac has always been shorthand for the most comfortable, luxuriously appointed automotive interiors in the industry. The passenger compartment of the 2021 Cadillac CT5 proves that Cadillac can still provide old-school plushness with today's cutting-edge flair. Each trim of the 2021 Cadillac CT5 features a different treatment, to help you find the one that's perfect for you, your personality, and the way you drive. The CT5 Luxury trim, for instance, features Jet Black high-quality faux leather seats with lox gloss Axiom Aluminum trim. Step up to the CT5 Premium Luxury and you'll get black surfaces with leather seating in your choice of classic colors like Jet Black, Sahara Beige, and two-tone Sedona Sauvage, and black with carbon fiber trim.

The Great American Touring Sedan never left us, and ultimate luxury doesn't have to break the bank. Want proof? Stop in today for a test drive of the elegant, powerful, sophisticated 2021 Cadillac CT5 at Landers Cadillac of Joplin, or check out our full selection of Cadillac sedans at our website right now.